Spinal Decompression in Blaine: Optimal Treatment for Herniated Discs
Spinal Decompression in Blaine: Optimal Treatment for Herniated Discs
Written By Advanced Health, PA on April 24, 2019
---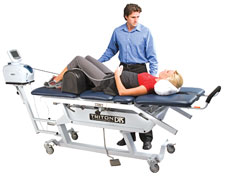 Do your arms or legs ever feel numb or weak? Do you experience pain in your back or neck?
You could have herniated discs which is a painful condition that affects millions of people. Thankfully, you can find relief with spinal decompression in Blaine and Mounds View.
Herniated Discs in Blaine: What Causes Them and Why Are They So Painful?
Before seeing why decompression is so beneficial, it's important to first look at what causes herniated discs in the first place.
Discs are the cushions in between each vertebra and they have three main jobs. They act as shock absorbers, add flexibility to the spine, and hold vertebrae together.
Each disc has a tough exterior and a jelly-like interior. Sometimes, the exterior tears due to trauma or weakness. Or, the vertebrae can push against the disc, causing it to bulge but not necessarily break.
When these things happen, the pain quickly follows. The disc can press against the sensitive nerves of the spine, leading to numbness/weakness in the extremities and pain.
---
Get Relief from Pinched Nerves & Herniated Discs!
Risk Nothing, Gain Everything
---
How Spinal Decompression in Blaine Leads to Relief
Fortunately, there's a way to get relief! It's called spinal decompression.
Decompression is a way to stretch out the spine so that the discs can return to their normal position, which takes the pressure off of the nerves.
Advanced Health PA utilizes a Triton DTS table for decompression treatment. You simply lay on this table and it stretches and releases slowly and gently to provide relief.
The therapy used in conjunction with chiropractic and massage therapy is a welcome alternative to back surgery for many patients.
Don't Suffer in Silence – Ask for Help from Advanced Health, PA
Back pain is not something to be taken lightly. The longer you hold off on getting treatment, the more damage you may experience. Talk to Dr. Hebeisen about treatment options that will reduce (or eliminate!) your pain and prevent further issues down the road.
Are you ready to get some relief from pinched nerves and herniated discs? Contact us today at (763) 571-9499 to schedule an evaluation.

Posted In: Chiropractic Spinal Decompression Herniated Disc Treatment