Visit Your Blaine, MN Chiropractor
Visit Your Blaine, MN Chiropractor
Written By Advanced Health, PA on August 28, 2019
---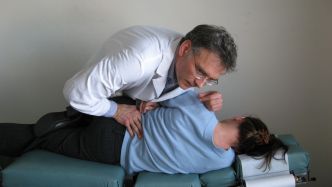 Are you interested in receiving chiropractic care in your local area? Do you suffer from back pain, neck pain, headaches, or other ailments?
Chiropractic care is your solution to a healthy body. Known as one of the top non-invasive and natural treatments in the healthcare industry, chiropractic care stops pains and aches at their sources – leaving you healed without unnecessary medication or surgery.
What is Chiropractic Care?
In a nutshell, chiropractic care is the adjustments of the joints via movement and pressure from a certified and trained Doctor of Chiropractic (D.C.). If your spine is not aligned properly, you may experience pain, pinched nerves, or headaches – to name a few symptoms.
The spine houses the central nervous system, which is responsible for senses like hot and cold, touch, and pain. By adjusting the spine back to normalcy, the pressure is taken off the central nervous system, joints, and the bones to reduce inflammation and improve joint mobility.
---
Why Suffer Any Longer?
Risk Nothing, Gain Everything
---
Is a Blaine, MN Chiropractor Right for You?
In addition to spinal adjustments, Dr. Hebeisen will suggest exercises to help your body heal faster. Advanced Health, PA offers other wonderful healing solutions to supplement your adjustments and to treat other serious injuries, such as acupuncture, spinal decompression therapy, and therapeutic massage.
You can count on Dr. Gregg Hebeisen, D.C. for all your chiropractic needs. Servicing the communities of Blaine, Columbus Heights, and Fridley with practical chiropractic treatments and beneficial therapies such as acupuncture, massage, and exercise. We naturally treat illnesses from auto and work injuries to frequent headaches.
If you would like more information on the benefits of chiropractic care, acupuncture, massage, and exercises, or if you would simply like to speak to a chiropractor about your needs, schedule your appointment today or call (763) 571-9499.

Posted In: Chiropractic Natural Pain Treatment